Brazilian Hotels - Tickets to Brazil - Vacations
Brazilian Hotels specializes in Hotels and Vacation packages in Brazil. Whether you are looking for a simple Inn or a luxurious 5 star hotel in Brazil, we have what you are looking for! You just won't find better deals to Brazil anywhere and that we can guarantee! We specialize in Brazilian Hotels and Low cost airline tickets. We only work with the most popular carriers in the travel business. Brazilian Hotels also specializes in packages deals for Carnival and New Years celebrations. You can feel at ease knowing that one of our expert Brazilian travel agents will take care of your every need from start to finish. When you travel to Brazil travel with Brazilian Hotels so you are guaranteed to get the lowest and best prices to Brazil, security that you will have an expert Brazilian Travel Agent to help you and 2 offices in Brazil that are always in reach if you need help or have questions. With over 30 years in the travel industry we can proudly say that BrazilianHotels are "The People That Know Brazil The Best"!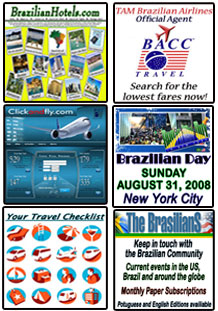 Airline Tickets to Brazil, South & Central America, Europe, The Carribean & Asia
BACC Travel is very proud to be one of the oldest and biggest wholesale tour operators to Brazil. For over 30 years we have specialized in travel to Brazil and tickets to Brazil. BACC Travel is fully staffed with expert Travel Agents that are always ready to assist our clients in finding the lowest priced tickets to Brazil. Finding a reliable Travel Agent to Brazil is a guarantee when you buy your tickets to Brazil with us. We use only the most reliable Airline Carriers like TAM Brazilian Airlines, Delta, American and United just to name a few. Here you can find the lowest cost air tickets to Brazil as well as discount Car Rental information in Brazil, incredible deals on Hotels in Brazil, important VISA information and so much more. New Years eve is also a great time to be in Rio de Janeiro, we can help you plan it! Ready to take that once in a lifetime vacation to the Amazon? Well, you found the right people to take you there! While in Brazil it is nice to know that we have 2 offices; one in São Paulo and the other in Rio de Janeiro in case you need to get information about your tickets to Brazil or even buy domestic tickets insideBrazil to extend your vacation. So we are always close to you. There is a reason they say that without a Travel Agent you are on your own!
---