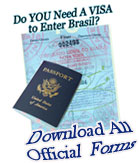 Frequently Asked Questions
1. Who needs a tourist visa?
U.S. citizens visiting Brazil for tourism; and U.S. citizens participating in sports or artistic events, - whenever they are not being paid for such activities (except for daily allowances, and hotel & travel expenses.) Citizens of other nations, please click here to see if your country requires a visa.
2. What do you need to bring to the Consulate to apply for a visa?
Your passport, valid for at least 6 more months upon your arrival date in Brazil; One Visa Application Form, filled out on both sides and signed; One recent 2x2 passport-photo, front view, white background; A copy of your round-trip ticket or a booked itinerary showing travel to and from Brazil (confirming the purchase of the ticket, with passenger's name, itinerary, flight number and arrival/departure dates); A copy of the U.S. Alien Resident Card for foreign residents and/or a valid visa or document to return from Brazil to the US or to another country; For minors under 18 years of age, see "Visa for Minors"; and The Consulate may request additional information/documentation as deemed necessary.
3. How much does it cost?
U.S. passport holders must pay a processing fee of US130.00 in reciprocity for an identical fee paid by Brazilian citizens who apply for a tourist visa to the U.S.; Tourist visa fees vary according to nationality: Australia: US$35.00; Canada: US$65.00; Japan and Russia: US$50.00; Mexico: US$30.00; Nigeria: US$40.00 and all other countries: US$20.00; An additional fee of US10.00 will be charged for any application not submitted in person by the applicant, regardless of nationality. This additional fee is not applicable to family members; andNo cash, personal or company checks are accepted, only U.S. POSTAL SERVICE MONEY ORDER, made out to the Consulate General of Brazil.